Bursaries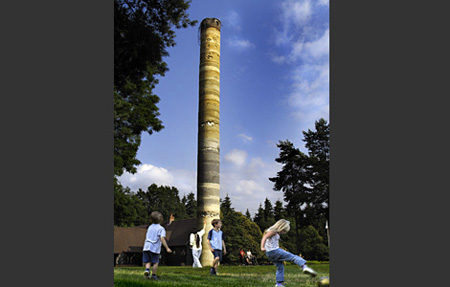 Press Release, Core Sample, Matrix Revealed.
High Lodge Forest Centre, Thetford Forest Park, Norfolk


This April celebrates the first anniversary of Julienne Dolphin-Wilding's imposing geological core sample sculpture, which rises rather like the earths centre totem pole inspired by the Neolithic flint mines called Grimes Graves in Thetford Forest Park. Initially commissioned by Forest Enterprise in 2003 to reflect a natural element of the Norfolk countryside, the sculpture stands 13-metres tall, comprises 24 sections of aggregate materials and took over a year to complete.

The huge structure stands in the courtyard of High Lodge Forest visitors centre so the artists' real challenge was to simulate nature in a way that she felt the audience could tolerate. Her visit to Grimes Graves revealed the surprising layers of substrata beneath the earth's surface and she began to envisage a core sample of Norfolk that would appear as it was drawn out of the ground:

'We live on the earth's surface but are mainly oblivious to what is below us.  I felt strongly about bringing the Grimes Graves shaft up to the surface and a geological core sample was an obvious way of doing it'

'There is a theme which runs through all my public artwork and that is a 'conspiracy to disconcert'. I wish to create illusion and deception in the landscape. The purpose of this conspiracy is to entice the park visitors to look closer, to investigate their surroundings more acutely, and to be more alert. I hope to achieve this by constructing an artwork that acts as a double take: a second look occasioned by surprise.'
Julienne Dolphin Wilding

The sculpture has a 10-tonne concrete foundation with 24 rings threaded on to a steel inner tube.  Each ring is composed of different aggregates and features layers of soft chalk 180,000,000 years old, various sands, deer skulls, rabbit burrows and flint hand axes used by Neolithic man. The towering sculpture represents the stratigraphy of Norfolk and is intended to inspire people to think about the story of the planet's make up and the earth's surface that we take for granted; it entices us to investigate our surroundings and invites us into the secrets of nature.

'Core sample, matrix revealed' was joint funded by the Arts Council England, Forest Heath District Council and Suffolk County Council. Commissions East, Andrew Firebrace structural engineers, Frimstone aggregates and May Gurney supported the project.


Core sample, matrix revealed
Roots 2003
Rabbit burrows 1997
Strong brown sandy loam
Brown slightly humus sands.
Deer skulls and antlers in pale yellowish brown loamy sand.
Flint stone hand axes
Toppings flint in pale yellowish brown sand.Chalk flour and chalk-sand drift.Upper crust flint in strong brown sandy loam
Pale yellowish brown chalk sand, stony high-level gravel.
Wall stone flint in pipe clay.
Rough and smooth black flint in chalk sand matrix.
Flint layer in chalk rubble
Glacial drifts and post ice age superficial deposits:
Soft chalk 180,000,000 years old

Artist biography
Julienne Dolphin Wilding was born in London in 1960 and has worked as an applied and environmental artist for the last sixteen years. She is well known for her large scale one off chairs made from a wide selection of unconventional materials. To avoid any pigeon holing she describes herself as an environmental artist. She is determined to stay open and experimental. Her concerns are ecological and work within this framework is evident in her diverse portfolio.

Her materials vary from recycled and reclaimed wood, metal, and stone, for example factory waste, driftwood and 'drift metal' dug up at low tide from the Thames riverbed, and architectural salvage.  Other materials are  'context crossovers' from a wide use of new 'off the shelf' materials of all types, rubber flooring used as table surfacing for example. Also Julienne specialises in extensive use of difficult and unpopular materials, such as yew tree

She builds up small collections based on narrative themes for exhibitions as well as working to commission. She has accomplished an impressive body of work including garden design and construction, water features, furniture of all functions, installation and site-specific sculpture. Examples of her work include 'one off' chairs made from her diverse range of unconventional materials such as storm-felled hornbeam Thames bog oak and carved telegraph poles. She has made huge yew tables, wooden sinks made from different hard woods and a jigsaw puzzle profile of a complete ash tree. She has worked in collaborations with other artists and designers. Her work has been distributed in Europe, U.S. and Japan.

"Huge, graceful, high-backed chairs are functional for in and outdoor use, and create unusual and sculptural pieces…All the materials used would otherwise be left for waste. They take on a new role which exploits their individuality and irregularity – precisely those characteristics which preclude their use in most applications"
Dorothy Mackenzie, Green Design, design for the environment